Sluice Box Adventures
Believing Bible Study in the 21st century
The Believer in Jesus Christ
John 11:26 "And whosoever liveth and believeth in me shall never die. Believest thou this?"
1 Thessalonians 2:13 "For this cause also thank we God without ceasing, because, when ye received the word of God which ye heard of us, ye received it not as the word of men, but as it is in truth, the word of God, which effectually worketh also in you that believe."
---
All About The True Believer In Jesus Christ
The Seven Mysteries
Old Paths Baptist Mission © 2011 Richard St.James
---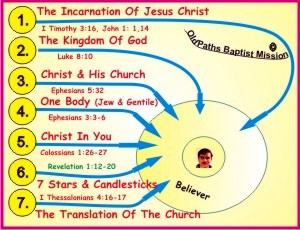 A supernatural explanation comes from a supernatural
BOOK
.
A supernatural
BOOK
is written by a supernatural Author.
The
BIBLE
is this
BOOK
!!!
Its Author is God. And in the English language, it is the King James Bible!
Dear Friend,It is by the divine power of God through faith that we become the partakers of the divine nature.
We became partakers the moment we receive Jesus Christ as our Lord and Savior.
"But as many as received him, to them gave he power to become the Sons of God, even to them that believe on his name"
[John 1:12].
Faith is first, and it is by the grace of God that we get saved from the wrath of God, which is to come.
"For by grace are ye saved through faith; and that not of yourselves: it is the gift of God"
[Ephesians 2:8].
This faith will be the type of faith where we put our whole trust in Jesus Christ, the Son of God.
"In whom ye also trusted, after that ye heard the word of truth, the gospel of your salvation: in whom also after that ye believed, ye were sealed with that holy Spirit of promise"
[Ephesians 1:13].
At the moment we trusted Jesus Christ
"through faith unto salvation"
[1 Peter 1:5], God
"sent forth the Spirit of His Son into your hearts"
[Galatians 4:6] to dwell and we
"were sealed with that holy Spirit of promise."
This is the new birth termed
"born again"
in John 3. There is more. This
"divine power of God"
has made us
"to drink into one Spirit."
It occurred the instant you got saved by the
"so great salvation"
of Hebrews 2:3. It is connected to the event that every believer experiences, that is, being
"baptized into one body"
[1 Corinthians 12:13]. This body is the
"spiritual house"
of 1 Peter 2:5.
All this happened through faith! Read, Hebrews chapter 11.
"Now faith is the substance of things hoped for, the evidence of things not seen."
(Vs.1)
"But without faith it is impossible to please him: for he that cometh to God must believe that he is, and that he is a rewarder of them that diligently seek him."
(Vs.6) But if you have trusted Jesus Christ through faith you must not stop here. You must grow in grace.
"But grow in grace, and in the knowledge of our Lord and Savior Jesus Christ."
In order to grow, you must add to your faith. In 2 Peter 1:5-7, it is revealed by the Holy Spirit seven things
"that pertain unto life and godliness"
that every Christian is to add to their faith. We are first, to add virtue; second, to add knowledge; third, to add temperance; fourth, to add patience; fifth, to add godliness; sixth, to add brotherly kindness; and seventh, to add charity. Now is that not something? We are told by the apostle through the Spirit of God to add seven things to our faith.
Seven in the Bible is the number of completion. Heaven and earth was made in six days and God ceased from His work on the seventh day. There are seven days in a week. There are seven weeks before the Feast of Pentecost, and there are seven months before the Feast of Tabernacles and Day of Atonement.
In the Book of Revelation, there are seven churches, seven bowls, seven vials, seven trumpets, seven candlesticks and seven spirits. God has divided time into seven dispensations in the Bible. Seven is the number of completion in the Bible. The seventh thing to be added to the Christian's faith is charity.
"And above all these things put on charity, which is the bond of perfectness."
[Colossians 3:14].
Next:
The Paradox
Top