Sluice Box Adventures
Believing Bible Study in the 21st century
The Androids and the Daysman
Psalms 12:6-7 "The words of the LORD are pure words: as silver tried in a furnace of earth, purified seven times. Thou shalt keep them, O LORD, thou shalt preserve them from this generation for ever."
1 Thessalonians 2:13 "For this cause also thank we God without ceasing, because, when ye received the word of God which ye heard of us, ye received it not as the word of men, but as it is in truth, the word of God, which effectually worketh also in you that believe."
---
The Androids and the Daysman
Old Paths Baptist Mission © 2015 Richard St.James
---
5. We Need Help
[Deuteronomy 33:26]: "There is none like unto the God of Jeshurun, who rideth upon the heaven in thy help, and in his excellency on the sky."
When "trouble" does come to you, my friend, you will need to learn a very important lesson: That man cannot ultimately help with … the things of life, which are the things that really matter. "Give us help from trouble: for vain is the help of man." [Psalm 60:11]
You and I both will need the "help" of God in these perilous times.
The "help" of God formulates the very basis to the remedies that are needed to counter the troubles found in life. We need to go to God! Then God will come to us! "Let us therefore come boldly unto the throne of grace, that we may obtain mercy, and find grace to help in time of need." [Hebrews 4:16]
When God does come to "help" us, HE will form with HIS "everlasting arms" a "refuge" [or a covert] for us, as the mother hen does for her little chicks by the covering of her wings.
Now, take notice of this very thing with me. In the book of Deuteronomy, chapter thirty-three, starting with verse twenty-seven, we read: "The eternal God is thy refuge, and underneath are the everlasting arms: and he shall thrust out the enemy from before thee; and shall say, Destroy them. Israel then shall dwell in safety alone: the fountain of Jacob shall be upon a land of corn and wine; also his heavens shall drop down dew. Happy art thou, O Israel: who is like unto thee, O people saved by the Lord, the shield of thy help, and who is the sword of thy excellency! and thine enemies shall be found liars unto thee; and thou shalt tread upon their high places." [Deuteronomy 33:27-29]
God is a refuge to those in trouble. God is our strength in the time of trouble. "God is our refuge and strength, a very present help in trouble." [Psalm 46:1]
Now here is a promise of God to all men living during the Kingdom of Heaven: "For he shall deliver the needy when he crieth; the poor also, and him that hath no helper." [Psalm 72:12]
Now what of today?
How can we get help today?
---
6. The Daysman
The answer is put forth here, and is revealed through this question!
How can a man be just with GOD?
Here is the situation described for all mankind: "So I returned, and considered all the oppressions that are done under the sun: and behold the tears of such as were oppressed, and they had no comforter; and on the side of their oppressors there was power; but they had no comforter." [Ecclesiastes 4:1]
Now, God was looking for a man. "And I sought for a man among them, that should make up the hedge, and stand in the gap before me for the land, that I should not destroy it: but I found none." [Ezekiel 22:30]
It certainly looked for a time very … hopeless.
Now, read with me in Job chapter nine, verses one, and two: "Then Job answered and said, I know it is so of a truth: but how should man be just with God?" [Job 9:1-2]
Now, let's proceed to verse twenty-nine. Are you ready for this? "If I be wicked, why then labour I in vain? If I wash myself with snow water, and make my hands never so clean; Yet shalt thou plunge me in the ditch, and mine own clothes shall abhor me. For he is not a man, as I am, that I should answer him, and we should come together in judgment. Neither is there any daysman betwixt us, that might lay his hand upon us both. Let him take his rod away from me, and let not his fear terrify me: Then would I speak, and not fear him; but it is not so with me." [Job 9:29-35]
We are in trouble! The realization is this … we are the haters of God. We are rebels! We are the "enemies" of God! We learn this basic truth in life from God's word [the Authorized Version of 1611, or any of its editions], in the book of Romans, chapter five: "For if, when we were enemies, we were reconciled to God by the death of his Son, much more, being reconciled, we shall be saved by his life." [Romans 5:10] Amen!
Now, Jesus Christ will step into the scene [in the near future] to "build the old waste places." Hear what is prophesied by the prophet Isaiah: "And they that shall be of thee shall build the old waste places: thou shalt raise up the foundations of many generations; and thou shalt be called, The repairer of the breach, The restorer of paths to dwell in." [Isaiah 58:12]
A man can be just with GOD ... when a daysman steps between him and GOD!
A daysman is a mediator. He mediates between man and God.
"For there is one God, and one mediator between God and men, the man Christ Jesus;" [1 Timothy 2:5]
A daysman is an intercessor as a high priest.
"And he saw that there was no man, and wondered that there was no intercessor: therefore his arm brought salvation unto him; and his righteousness, it sustained him." [Isaiah 59:16] "Wherefore he is able also to save them to the uttermost that come unto God by him, seeing he ever liveth to make intercession for them. For such an high priest became us, who is holy, harmless, undefiled, separate from sinners, and made higher than the heavens; Who needeth not daily, as those high priests, to offer up sacrifice, first for his own sins, and then for the people's: for this he did once, when he offered up himself." [Hebrews 7:25-27]
A daysman is an advocate.
See this "daysman" in action as "an advocate" in the New Testament epistle of First John, in chapter two: "My little children, these things write I unto you, that ye sin not. And if any man sin, we have an advocate with the Father, Jesus Christ the righteous:" [1 John 2:1]. A daysman is an advocate! He steps into the breach.
Clearly, someone needs to step into the "breach" as Moses did for the people in the wilderness: "Therefore he said that he would destroy them, had not Moses his chosen stood before him in the breach, to turn away his wrath, lest he should destroy them." [Psalm 106:23]
Now a "breach" is a chasm. This chasm forms a divide between us and God. This divide between us and God is our SIN. Our SIN has ruined us, and condemned us to HELL.
Clearly, someone needs to be "worthy" of repairing the breach if we are to be SAVED. Someone is needed to be found who would restore mankind to his original state before sin came into the world. The bottom line is that we need a champion to whip the Devil, and beat Death, and give us eternal life.
This restorer is found in the book of Revelation in chapter five. The repairer of the breach is the Lion of the tribe of Juda. See HIM WHO is worthy to open the book with the judgments of God.
Here is the scene shown to us:
[Revelation 5:1-9]: "And I saw in the right hand of him that sat on the throne a book written within and on the backside, sealed with seven seals. And I saw a strong angel proclaiming with a loud voice, Who is worthy to open the book, and to loose the seals thereof? And no man in heaven, nor in earth, neither under the earth, was able to open the book, neither to look thereon. And I wept much, because no man was found worthy to open and to read the book, neither to look thereon. And one of the elders saith unto me, Weep not: behold, the Lion of the tribe of Juda, the Root of David, hath prevailed to open the book, and to loose the seven seals thereof. And I beheld, and, lo, in the midst of the throne and of the four beasts, and in the midst of the elders, stood a Lamb as it had been slain, having seven horns and seven eyes, which are the seven Spirits of God sent forth into all the earth. And he came and took the book out of the right hand of him that sat upon the throne. And when he had taken the book, the four beasts and four and twenty elders fell down before the Lamb, having every one of them harps, and golden vials full of odours, which are the prayers of saints. And they sung a new song, saying, Thou art worthy to take the book, and to open the seals thereof: for thou wast slain, and hast redeemed us to God by thy blood out of every kindred, and tongue, and people, and nation;" [Revelation 5:1-9]
Now, this same PERSON "Who is worthy to open the book" is the very same PERSON WHO wept over sinners when HE came to this earth [at the First Advent] to die for our sins on Calvary's cross. "When Jesus therefore saw her weeping, and the Jews also weeping which came with her, he groaned in the spirit, and was troubled," [John 11:33]
Jesus Christ cried over HIS friend: Lazarus. "Jesus wept." [John 11:35]
"Oh that my head were waters, and mine eyes a fountain of tears, that I might weep day and night for the slain of the daughter of my people!" [Jeremiah 9:1]
Listen to me! He knows our very troubles. He knows our very fears. He personally feels with deep groaning our tears. Notice with me that the psalmist David [who is a type of Jesus Christ] had similar groaning from within [the soul]: "I am weary with my groaning; all the night make I my bed to swim; I water my couch with my tears." [Psalm 6:6] "My tears have been my meat day and night, while they continually say unto me, Where is thy God?" [Psalm 42:3]
Jesus sees inside us even to our very anguished thoughts: "Thou tellest my wanderings: put thou my tears into thy bottle: are they not in thy book?" [Psalm 56:8]
But notice with me that it is the person who is in Christ Jesus [who is born of the Spirit of God] that has the promise to come out of the sorrows to the other side … to joy: "They that sow in tears shall reap in joy." [Psalm 126:5]
It becomes even better than this! Jesus Christ came to this earth two thousand years ago to "swallow up death in victory" to bring us HIS great salvation. This prophecy of the Old Testament prophet Isaiah has been fulfilled: "He will swallow up death in victory; and the Lord God will wipe away tears from off all faces; and the rebuke of his people shall he take away from off all the earth: for the Lord hath spoken it." [Isaiah 25:8] "And God shall wipe away all tears from their eyes; and there shall be no more death, neither sorrow, nor crying, neither shall there be any more pain: for the former things are passed away." [Revelation 21:4]
Every man, woman, and child on this earth [whoever they are] if they wait on the LORD will rejoice [in the end of the whole thing]: "And it shall be said in that day, Lo, this is our God; we have waited for him, and he will save us: this is the Lord; we have waited for him, we will be glad and rejoice in his salvation." [Isaiah 25:9]
Now, if you are a believer in Jesus Christ [born again], and you are in any trouble, then believe [and know for certain] that God is in control of every possible situation in which a true Christian can find himself. It behooves us to be admonished by the word of God which is found in the Second Epistle to the Corinthians in chapter four: "We are troubled on every side, yet not distressed; we are perplexed, but not in despair; Persecuted, but not forsaken; cast down, but not destroyed; Always bearing about in the body the dying of the Lord Jesus, that the life also of Jesus might be made manifest in our body. For we which live are alway delivered unto death for Jesus' sake, that the life also of Jesus might be made manifest in our mortal flesh. So then death worketh in us, but life in you." [2 Corinthians 4:8-12]
If you, Christian, are in any trouble, then cry out to God for help!
Help! Help! Help!
"Help me, O Lord my God: O save me according to thy mercy:" [Psalm 109:26]
"O God, be not far from me: O my God, make haste for my help." [Psalm 71:12]
"Because thou hast been my help, therefore in the shadow of thy wings will I rejoice." [Psalm 63:7]
Now, here is the promise from God to us who have believed on the Lord Jesus Christ [THE DAYSMAN] in the 21st century and need help with our infirmities. It is located in the book of Romans, chapter eight, verse twenty-six.
Now, READ it and BELIEVE it: "Likewise the Spirit also helpeth our infirmities: for we know not what we should pray for as we ought: but the Spirit itself maketh intercession for us with groanings which cannot be uttered." [Romans 8:26]
And, if you are having any problem believing God, then ask HIM to help with your unbelief, as this father did: "And straightway the father of the child cried out, and said with tears, Lord, I believe; help thou mine unbelief." [Mark 9:24]
This is the formula: ASK the "daysman" [WHO is the Son of God] for HELP!
"Hear, O Lord, and have mercy upon me: Lord, be thou my helper." [Psalm 30:10]
Now, "boldly say", within your spirit, and out loud for others to hear: The Lord is my helper!
Then what? Then STAND on this promise by FAITH: "So that we may boldly say, The Lord is my helper, and I will not fear what man shall do unto me." [Hebrews 13:6]
The bottom line is this: when [THE DAYSMAN] Jesus Christ is IN us, and we are IN HIM, then we are said to be set "free".
If we are indeed free, then we are no longer in "bondage" to SIN.
Now, THE DAYSMAN can take any android-like person living in the 21st century, and change him through the new birth [born again] into the image of His dear Son Jesus Christ.
This new person [or new creature] will be enabled by the in-dwelling Spirit of God to discern between good and evil, and call that which is evil … evil, and call that which is good … good.
Therefore, this new person IN Christ Jesus will know and love the boundaries and the limits that are revealed in a King James Bible of 1611.
And finally, this person will fervently embrace the ultimate authority in the Universe as the ONE … WHO is the setter of the limits.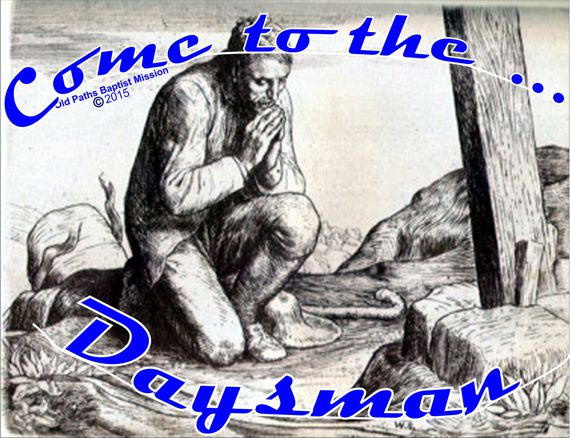 Result: The people that were "past feeling" for God, can now feel for God, and also can now feel for one another.
The fear of the LORD is indeed the answer, and it is the antidote for curing the robotic and cold hearts of the 21st century. "Ye that fear the Lord, trust in the Lord: he is their help and their shield." [Psalm 115:11] Seek for THE DAYSMAN! Amen!
Conclusion:
At the entrance of sin into the world, man morphed, in similitude, to wild pigs, and these wild pigs became the servants of sin. The wild pigs first worked for their corn … in order to eat … till, with passing of time, these same wild pigs transitioned to the free corn that was not so free. Then all the Siloam-like events seemed too remote … which thing in itself foretold of the coming of the android pigs. These android pigs are now joining [by a universal connection] the domain of the one-world order [the utopia], which insures the multiplying of troubles at the end of this age. Then will enter the daysman into the scene.
We need the Daysman!
The remedy is THE DAYSMAN!
---
Top