Sluice Box Adventures
Believing Bible Study in the 21st century
The Foundation Was Established
Psalm 12:6-7
"T

he words of the LORD are pure words: as silver tried in a furnace of earth, purified seven times. Thou shalt keep them, O LORD, thou shalt preserve them from this generation for ever.

"
He then knelt, and poured out a fervent prayer for themselves and for the country, imploring God, in accents choked with tears, if it was compatible with His holy will, that the storm might yet be calmed, and war be averted. He thus departed; and this happy home he never saw again.
---
Thomas
"Stonewall" Jackson
Old Paths Baptist Mission © 2011 Richard St.James
God In American History
His Fervent Prayer For The Nation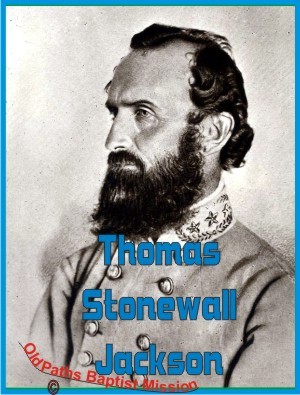 Having given his wife some directions touching his own preparations for the journey, he immediately hurried to the Institute, and busied himself in the arrangements for his pupils' departure. One of these was to call upon his pastor, and request him to attend at twelve o'clock A. M., to give them some Christian counsels and a parting prayer. At eleven o'clock A. M., ho returned to his house, took a hurried breakfast, and retired with his wife to their chamber, where he read the 5th chapter of 2nd Corinthians, commencing with the sublime and consoling words:
"For we know, that if our earthly house of this taber­nacle be dissolved, we have a building of God, an house not made with hands, eternal in the heavens." He then knelt, and poured out a fervent prayer for themselves and for the country, imploring God, in accents choked with tears, if it was compatible with His holy will, that the storm might yet be calmed, and war be averted. He thus departed; and this happy home he never saw again.
Although he left his affairs thus unsettled, he never asked nor received one day of furlough. From that time, he never lodged one night outside the lines of his command. His next return to Lexington was as a corpse, bedewed by a nation's tears. After a few days, his family removed, by his advice, to the house of a-friend, his furniture was packed, his dwelling­ house closed, and his servants placed out for the war.
Jackson's Political Beliefs
In politics, Jackson was always a Democrat. This term, in Virginia, always had reference more to the principles of Federal polity, the assertion of the sovereignty and reserved rights of the States, and the strict limitation of those of the Central Government, with the advocacy of a simple and unambitious exercise of its delegated powers, which were inculcated by Mr. Jefferson, than to a government for the individual States, strictly popular, and founded on universal suffrage. To the latter, the most of the Virginian statesmen of the States' Rights school were no friends; and the State-constitution of South Carolina, the most thoroughly democratic of all the States as to Federal politics, is the farthest removed from literal democracy. But it is probable that Jackson would have accepted the name of a Democrat in more of its literality than the statesmen we have described.
In Federal politics he was certainly a strict constructionist of the straitest sect. He voted with his party uniformly. To political discussions, in conversation, he was not given; and, while exceedingly exact in maintaining candor, he would usually content himself, when assailed by a political opponent, with a firm and polite declaration that he could not concur in his opinions, relapsing then into a silence from which no pertinacity could tempt him. With one or two intimates he conversed on public measures freely and with animation. And they always found his thoughts original and profound. He read little of the political journals; had there been no other reason for his disregard of them, his conscientious belief that it was his duty to employ his feeble eyesight in more important things, would have prevented him. His political opinions were, there­fore, very far from being the echo of other men's. He approached each subject from his own point of view, and this was usually found to be as conclusive as it was original.
Jackson' understanding of Separation of Church And State
To Colonel Preston he wrote thus: -
"I greatly desire to see peace, ~ blessed peace. And I am persuaded, that if God's people throughout our Confederacy will earnestly and perseveringly unite in imploring His interposition for peace, we may expect it. Let our Government acknowledge the God of the Bible as its God, and we may expect soon to be a happy and independent people. It appears to me that extremes are to be avoided; and it also appears to me that the old United States occupied an extreme position in the means it took to prevent the union of Church and State. We call ourselves a Christian people; and it seems to me that our Government may be of the same character, without connecting itself with an established Church. It does appear to me that as our President, our Congress, and our people have thanked God for victories, and prayed to Him for additional ones, and He has answered such prayers, and gives us a Government, it is gross ingratitude not to acknowledge Him in the gift. Let the framework of our Government show that we are not ungrateful to Him."
All above quoted from: Life and Campaigns of Lieutenant General Thomas J. Stonewall Jackson by Robert Lewis Dabney, Sprinkle Publications, 1893, Pages 70, 71, 182, 644
Go to: Stonewall Jackson Menu
---
Men Never Learn From History!
It is a heart problem!
Men refuse to learn the "lessons" afforded by the light of HISTORY:
the recorded historical events which occurred as fulfillment of Bible prophecy. Now, these are the basic truths with which we all must deal with one way or another!
Two Basic Reasons For Our Failing Our History Lesson!
The Removing Of The Anchoring Landmarks
We have steadily almost imperceptibly at times removed one by one the great principles that were part of the formulation of the United States of America.
We have been busy for generations removing the anchoring landmarks that came as a result of the revivals God blessed this country with in its early years by the preaching of the word of GOD.
We have disobeyed the commandment in Proverbs 22:28- "Remove not the ancient landmark which thy fathers have set."
The Departure from the BIBLE
What was the catalyst or reason for this downward spiral? Are you ready! The eyes of men everywhere had been clouded over with cataracts because of our apostasy or departure from the
BIBLE
… God's word (and more exactly including the multiplicity of translations and corruption's to God's written word).
This apostasy began in America in the
BIBLE SCHOOLS
early in the last century (1901) when Philip Schaff (with other rank liberals who had rot-gut unbelief in God's word within their hearts) colluded with the English RV committee of 1885 (Westcott and Hort) to produce the American Standard Version (ASV), also known as
"
the Rock of Bible Honesty
"
by the scholars, or more accurately, by Bible believers, as a prime example of a new age version of a corrupted bible.
---
Baptist Heritage
It is to the Baptists ... that we owe primarily ... our religious freedom, and it is Roger Williams [of Rhode Island] in particular, that is the most important contributor of our religious freedom we enjoy in the United States of America.
The Bloody Tenet of Persecution for Cause of Conscience is the primary document, which provided the underlying principles for religious freedom, which in turn gave rise to the then future documents of The Declaration of Independence, The United States Constitution and The Bill Of Rights.
Top