Sluice Box Adventures
Believing Bible Study in the 21st century
The Muckraker & Faith
Faith allows one to see things afar off in distance or in time … beyond the human senses.
1 Thessalonians 2:13 "For this cause also thank we God without ceasing, because, when ye received the word of God which ye heard of us, ye received it not as the word of men, but as it is in truth, the word of God, which effectually worketh also in you that believe."
---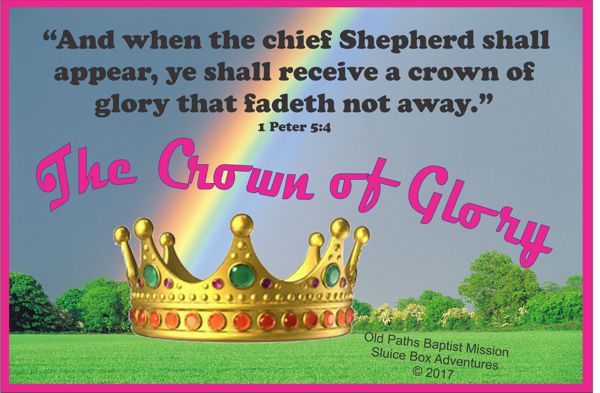 The Muckraker & Faith
Old Paths Baptist Mission © 2017 Richard St.James
---
5. Faith Looks Upwards to Heaven
---
What is faith?
The answer is incisively staring at you right in the face!
It is in the BOOK: "Now faith is the substance of things hoped for, the evidence of things not seen." [Hebrews 11:1] It is a substance.
This substance allows one to see things that are not seen.
There are things out there that are not seen with the natural senses. Faith enables a supernatural sense to things that are invisible.
The measure of faith one has determines the clarity of this supernatural vision.
Paul could see things that Festus could not see.
Festus was spiritually blind. He was blind from birth as are all men.
How is this so? Who blinded them? Who could be so cruel as to do this to all mankind?
The BOOK tells us!
Let us read the BOOK in Paul's Second Epistle to the Corinthians: "In whom the god of this world hath blinded the minds of them which believe not, lest the light of the glorious gospel of Christ, who is the image of God, should shine unto them." [2 Corinthians 4:4]
The cruel taskmaster, therefore, is "the god of this world".
Who is the god of this world?
The god of this world is the Devil – Satan.
Mankind is blinded by the Devil lest they see the light of the glorious gospel of Jesus Christ.
Festus would have done better if only he had allowed Paul to be his seeing-eye dog, so to speak, in the supernatural things that he could not see.
Festus was a natural man.
Now here was Festus's big "but" problem: "But the natural man receiveth not the things of the Spirit of God: for they are foolishness unto him: neither can he know them, because they are spiritually discerned." [1 Corinthians 2:14]
Paul was a spiritual man.
Festus had not faith. Paul had faith.
Warning:
If a person is to please God he must have faith! "But without faith it is impossible to please him: for he that cometh to God must believe that he is, and that he is a rewarder of them that diligently seek him." [Hebrews 11:6]
Somebody else who did have faith was Abraham.
Romans 4:17-21
"(As it is written, I have made thee a father of many nations,) before him whom he believed, even God, who quickeneth the dead, and calleth those things which be not as though they were.
Who against hope believed in hope, that he might become the father of many nations; according to that which was spoken, So shall thy seed be. And being not weak in faith, he considered not his own body now dead, when he was about an hundred years old, neither yet the deadness of Sara's womb:
He staggered not at the promise of God through unbelief; but was strong in faith, giving glory to God; And being fully persuaded that, what he had promised, he was able also to perform."
Here is what faith does.
Faith allows one to see things afar off in distance or in time … beyond the human senses.
A person who has this faith [as Abraham did] is transported through time and space to see the invisible things along with the visible things.
(Note those "invisible" things in the epistle to the Colossians, chapter one, verses fifteen and sixteen, that no one can see without faith in JESUS CHRIST: "Who is the image of the invisible God, the firstborn of every creature: For by him were all things created, that are in heaven, and that are in earth, visible and invisible, whether they be thrones, or dominions, or principalities, or powers: all things were created by him, and for him:" [Colossians 1:15-16]).
• Faith looks upward to God!
• Faith looks upward to Heaven.
• Faith is the solution to all ills;
• Faith brings HEALTH to all of us.
Now if you are one of these people [who are reeling and staggering as drunken men] always looking downward to the earth to find the solutions to problems of life, and find none!
Then try looking upwards to God.
Do not be a muckraker!
Look up!!!
The solution is the FAITH of Abraham.
This faith looks upwards to Heaven. This faith trusts in the LORD:
Proverbs 3:5-8:
"Trust in the LORD with all thine heart; and lean not unto thine own understanding. In all thy ways acknowledge him, and he shall direct thy paths.
Be not wise in thine own eyes: fear the LORD, and depart from evil. It shall be health to thy navel, and marrow to thy bones."
I close here with this passage found in the First Epistle of Peter, chapter one, verse five through nine:
"Who are kept by the power of God through faith unto salvation ready to be revealed in the last time. Wherein ye greatly rejoice, though now for a season, if need be, ye are in heaviness through manifold temptations:
That the trial of your faith, being much more precious than of gold that perisheth, though it be tried with fire, might be found unto praise and honour and glory at the appearing of Jesus Christ:
Whom having not seen, ye love; in whom, though now ye see him not, yet believing, ye rejoice with joy unspeakable and full of glory:
Receiving the end of your faith, even the salvation of your souls."
Faith looks upwards to Heaven.
Faith sees the invisible God … even our Jesus Christ.
Amen!

Top