Sluice Box Adventures
Believing Bible Study in the 21st century
All About True Salvation - The Two Ways
"Enter ye in at the strait gate: for wide is the gate, and broad is the way, that leadeth to destruction, and many there be which go in thereat: Because strait is the gate, and narrow is the way, which leadeth unto life, and few there be that find it." Matthew 7:13-14
1 Thessalonians 2:13 "For this cause also thank we God without ceasing, because, when ye received the word of God which ye heard of us, ye received it not as the word of men, but as it is in truth, the word of God, which effectually worketh also in you that believe."
---
The Two Ways
Old Paths Baptist Mission © 2011 Richard St.James
---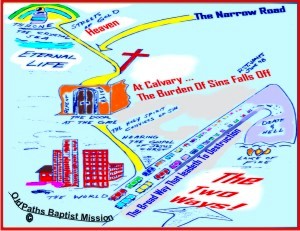 "Enter ye in at the strait gate: for wide is the gate, and broad is the way, that leadeth to destruction, and many there be which go in thereat: Because strait is the gate, and narrow is the way, which leadeth unto life, and few there be that find it"
Matthew 7:13-14
---
The First Way Is A Narrow Way!
I have a warning to give to you!
It is a narrow way, and if you do not go in by this door, God will himself declare you a thief, and a robber!
"Verily, verily, I say unto you, He that entereth not by the door into the sheepfold, but climbeth up some other way, the same is a thief and a robber"
[John 10:1].
In 1973, Rick St.James entered through that
DOOR
that God declared was the only way to salvation. It was a door I went through without ever looking back! What about you, my friend?
"And Jesus said unto him, no man, having put his hand to the plough, and looking back, is fit for the kingdom of God"
[Luke 9:62].
---
The Command
"Enter ye in at the strait gate: for wide is the gate, and broad is the way, that leadeth to destruction, and many there be which go in thereat: Because strait is the gate, and narrow is the way, which leadeth unto life, and few there be that find it."
---
Believe The BOOK!
This is God's Holy Word to you and I!
Do you believe it?
These words of Matthew chapter seven are from the Authorized Version of 1611. The AV1611 [or The King James Bible] is God's word
PRESERVED
in the English language for you and I. It came from the English Reformation. This Bible declares that:
"All scripture is given by inspiration of God, and is profitable for doctrine, for reproof, for correction, for instruction in righteousness."
[II Timothy 3:16]
God's inspired word is preserved in the
AV1611
.
The word "preserved" means maintained inspiration.


"The words of the LORD are pure words: as silver tried in the furnace of earth, purified seven times. Thou shalt keep them, O LORD, thou shalt preserve them from this generation for ever."
[Psalm 12:6-7]
"PRESERVE."
You see what God is saying here?
GOD
promises that no matter what man does, even with his corrupting influence in all these Madison Avenue money-making productions, which have resulted in over 200 "new" English translations of the Bible in the last 100 plus years,
HE WILL
[in spite of the scholars]
"PRESERVE THEM FROM THIS GENERATION FOR EVER!"
Stick with the Book! Amen! Amen!
AMEN
!
---
Obey The BOOK!
We are to take heed to what God says! When God commands "all men everywhere to repent" [Acts 17:30], He is revealing His Will through
HIS WORD
to man. His
WORD
is perfectly preserved without error to this very day to the English speaking people. It is the AV1611 Bible [any of its editions]!
It is critically important for you and I to understand this. Listen to this, my friend.
"Because he hath appointed a day in the which he will judge the world in righteousness by that man whom he hath ordained: whereof he hath given assurance unto all men, in that he hath raised him [Jesus Christ] from the dead"
[Acts 17:31].
Enter ye in at the strait gate!
Do you hear His command?
Many there will be that will mock at these words, and not obey them. Please, my friend, let this not be so with you. Do not respond to this command of God, like the Athenians did to the Apostle Paul, by mocking God, or by putting God off.
"And when they heard of the resurrection of the dead, some mocked: and others said, we will hear thee again of this matter."
[Acts 17:32]
Maybe one day God will mock you! If you ignore the Almighty God of "The Old Black Book", and think that you will get away with it
YOU ARE A FOOL
.
You will be with those who
"imagine a vain thing."
Look at Psalm Two.
"Why do the heathen rage, and the people imagine a vain thing?"


You will be joining hard ... hand to hand with that crowd that is setting themselves up against God because they don't like His Narrow Way.
"The kings of the earth set themselves, and the rulers take counsel together, against the LORD, and against his anointed, saying, Let us break their bands asunder, and cast away their cords from us."
You can spell
MAN
like this!
R-E-B-E-L
! Read Genesis 1-3. You say: "Where is the PROOF TEXT?"
How about this one?
"All we like sheep have gone astray; we have turned every one to his own way; and the LORD hath laid on him the iniquity of us all."
[Isaiah 53:6]
The Bible has this judgment of us. We are
REBELS
! And someday if you stay with this bunch, you will be found out as being a member of the wrong crowd. Furthermore, someday God will mock you! He will laugh at you with scorn! "Come on now. Why are you saying all this to me? Certainly God will do no such thing to me!"
Friend, what I am telling you is based in the authority of God's Book. God will laugh at you with a derisive laughter. And
GOD
will throw you in Hell's Fire, unless you
"Kiss The SON
". Kiss the SON by entering in at the strait gate!


"He that sitteth in the heavens shall laugh: the Lord shall have them in derision. Then he shall speak unto them in his wrath, and vex them in his sore displeasure."
God sums it this way, and this is real NARROW.
"Kiss the Son, lest he be angry, and ye perish from the way, when his wrath is kindled but a little. Blessed are all they that put their trust in him
". [Psalm 2]
---
The Second Way Is A Broad Way!
For wide is the gate, and broad is the way, that leadeth to destruction, and many there be which go in thereat:
The Broad Way is a wide way, which offers no restrictions whatsoever. It is an easy road ... where there are NO restraints, where there is no list of DO NOTS.
All the signs posted along this Broad Way tell you to go UNBRIDLED, and UNFETTERED. One of them even boldly paints this!
BE NOT CONTROLLED BY ANY AUTHORITY
! And especially NOT the Bible, or the
GOD
Of The
BIBLE
!
The heart of man just loves it this way! Now, do you want to know God's opinion of all this? In Jeremiah 4:18, the Holy Ghost through the prophet gives it like this!
"Thy way and thy doings have procured these things unto thee: this is thy wickedness, because it is bitter, because it reacheth unto thine heart."
Thy way leads you down the Broad Way. The mass of humanity is on this broad highway that is paved with all the comforts of the pleasures of sin for a season. Yea! ... The signs do tell us on the Broad Way:
"YOU ARE YOUR OWN BOSS
!"
Now, if you love that message, then God has a label for you! You are a
REBEL
! And rebels are guilty of
VEXING
the Spirit of God, and provoking Him to be their enemy. In Isaiah 63:10, the Holy Writ gives it this way concerning Israel.
"But they rebelled, and vexed his holy Spirit: therefore he was turned to be their enemy, and he fought against them."
Being on the Broad Way and getting all you can get … of all that the world can offer you in the way of wealth, fame, and fun-filled pleasures … has a very terrible end.
---
The Consequences!
Please always ... always ... think of the consequences that are waiting for you at the end the road ... before you
GO
.
The Broad Way leads to
YOUR DESTRUCTION
! Your
LIFE
is too short to burn it up on
THE BROAD WAY
when it is certain you will
LOOSE YOUR OWN SOUL AT THE END
. It is far
BETTER FOR YOU TO KISS THE SON OF GOD NOW AND BEND THE STUBBORN KNEE TO JESUS WHILE YET THERE IS OPPORTUNITY!
The opportunity for you to escape Hell is flying away.
Hell is a terrifying place! In Revelation 20, it is shown that Hell
ITSELF
will be cast into The Lake Of Fire, which will be primarily
"prepared for the Devil and his angels."
[Matthew 25:41]
This will be your home also ... forever ... if you refuse to
TRUST AND OBEY THE COMMAND TO GO THROUGH
Jesus Christ. The thought just horrifies me to think of men and women who are dead set to remain on this Broad Way to Hell.
Few Go The Narrow Way!Therein is a sad truth. God's
BOOK
reveals to us that the vast majority of humanity will pass through life, and pass up the opportunity to receive the free gift of salvation that God has provided through His Son, Jesus Christ.
"And many there be which go in thereat"
THE BROAD WAY!
In contrast to:
"And few there be that find it."

THE NARROW WAY!
OH! Why? Why? It is for this reason.
"But if our gospel be hid, it is hid to them that are lost: In whom the god of this world
[
THE DEVIL
]
hath blinded the minds of them which believe not, lest the light of the glorious gospel of Christ, who is the image of God, should shine unto them."
[II Corinthians 4:3]
Most people sadly, will go through life, and never respond to God's Book
IN THE AFFIRMATIVE
!
"For God so loved the world, that he gave his only begotten Son, that whosoever believeth in him should not perish, but have everlasting life."
---
Next:
Selling Yourself To Do Evil
---
Top