Sluice Box Adventures
Believing Bible Study in the 21st century
All About True Salvation - All We Like Sheep
All we like sheep have gone astray; we have turned every one to his own way; and the Lord hath laid on him the iniquity of us all. [Isaiah 53:6]
1 Thessalonians 2:13 "For this cause also thank we God without ceasing, because, when ye received the word of God which ye heard of us, ye received it not as the word of men, but as it is in truth, the word of God, which effectually worketh also in you that believe."
---
All We Like Sheep
Old Paths Baptist Mission © 2011 Richard St.James
---
Will You Come to Jesus Christ?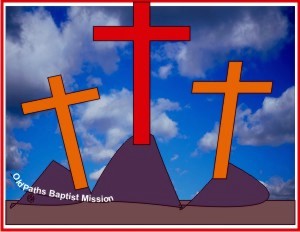 Do you believe this scripture, my friend?
Do you sense from within your heart ... the tugging and pulling of the Spirit of God?
The Holy Spirit
"will reprove the world of sin, and of righteousness, and of judgment
."
He will do this for you! In John Bunyan's
The Pilgrims Progress
there is seen an illustration of a man sitting at a table.
He is under tremendous conviction of sin, and is mulling over within his heart the
TWO WAYS
in life that lie before him. He must make a decision. It is a matter of whether or not to go to
THE STRAIT GATE
, or to stay there on The
BROAD WAY
!
Where are you, my friend?
What will you do with Jesus Christ?
Will you flee from the wrath of God, and go to
THE DOOR
, and Knock?
If you go through this
DOOR
you will be on location at Mount Calvary which place is where the weight of your sin will drop off your back at the sight of the
ONE
who died for you, and
WHO
shed His
BLOOD
for you.
You ... my friend ... will then ... be on
THE NARROW WAY TO HEAVEN! AMEN! AMEN! AMEN
!
"Enter ye in at the strait gate: for wide is the gate, and broad is the way, that leadeth to destruction, and many there be which go in thereat: Because strait is the gate, and narrow is the way, which leadeth unto life, and few there be that find it."

There Are Two Ways In Life!
•The Broad Way!
•And The Narrow Way!
•Ones Leads To Destruction ...
•One Leads To Eternal Life!
•One Leads To Hell ...
•One Leads To Heaven!
Which Way Are You On?
Next:
The Lighthouse
---
Top